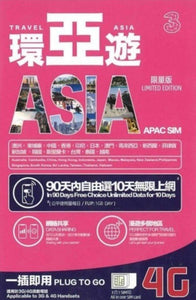 SPECIFICATIONS:
●  10 Days Unlimited Data in 16 Countries
(Australia, Cambodia, China, Hong Kong, Indonesia, Japan, Macau, Malaysia, New Zealand, Philippines, Singapore, South Korea, Sri Lanka, Taiwan, Thailand, Vietnam)
●  10GB of high speed data for 10 days and throttling low speed of 128kbps after 1GB daily
(Data limited to 1GB high speed data per day for 10 days)
(Once your data usage reaches 1GB "Fair Usage level", the upload/download speed would be reduced and restricted but not below 128kbps and tethering/hotspot services would not be available.  High speed data will refresh at 12:00am the following day)
●  Can access all social apps in China.  No vpn needed.
●  3-in-1 sim size - nano, micro and standard size
●  Supports mobile hotspot/tethering only up to 1GB data per day
●  Device Requirement: OPENLINE 4G LTE SMARTPHONE ONLY
(not compatible with devices purchased from telecom providers)
(not compatible with pocket wifi devices/routers)
●  No registration required
●  User guide included  
●  Service Provider:  3HK
●  Sim Expiry: 
●  This card is for one-time use only