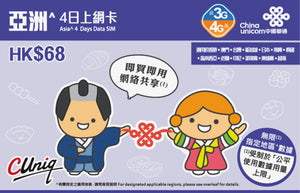 SPECIFICATIONS:
●  4 Days Unlimited Data in 14 Countries
(Cambodia, Hong Kong, Indonesia, Japan, South Korea, Laos, Macau, Malaysia, Myanmar, Philippines, Singapore, Taiwan, Thailand, Vietnam)
●  2GB of high speed data for 4 days and throttling low speed of 256kbps after 500mb daily
(Data Limited to 500mb high speed data per day for 4 days)
(Once your data usage reaches 500mb "Fair Usage level", the upload/download speed would be reduced and restricted but not below 256kbps and tethering/hotspot services would not be available.  High speed data will refresh at 12:00am the following day)
●  Data services only.  No calls and sms.
●  3-in-1 sim size - nano, micro and standard size
●  Supports mobile hotspot/tethering only up to 500mb data per day
●  Device Requirement: OPENLINE 4G LTE SMARTPHONE ONLY
(not compatible with devices purchased from telecom providers)
(not compatible with pocket wifi devices/routers 
●  No registration required
●  User guide included  
●  Service Provider:  China Unicom
●  Sim Expiry: 
●  This card is for one-time use only